Wednesday, February 06, 2008
::Spirit o' Spirit, Where Art Thou?::

Adeh..tahap kemalasan adalah tak dapat dibendung-bendung lagi.

Adalah yabai malas-malas ni.

I know I am almost done with my work, but that doesn't mean that I can be a slacker!

Kerja yang sikit tu la mesti habiskan! Tapi what I do is sit and laze around saja.

Why oh why am I so lazy???

I don't need this laziness bugging me now!!!

By the way, snow turun lagi, tapi macam hujan saja...but tak kisah la. Snow is snow!

*Siapkan presentation slide!

*Habiskan calculation and discussion!

*Siapkan thesis!

*And then baru boleh graduate...so apa lagi!!!!

*Do your work, for God sake!!!



Tuesday, February 05, 2008

::Just Like This, Just Like That::

It snows super heavily (for Yokohama standard) in Yokohama last Sunday! And we brought out our inner kids and went out to school to play with the snow. Too bad it was so cold that we frozed our toes. We had to get back home and soak out toes in hot water just to relief the pain. And my toes was swelling and was in a very painful state. Thanks to the wrong shoe.

But.....the snow was fun nonetheless!


My school is beautiful, isn't it?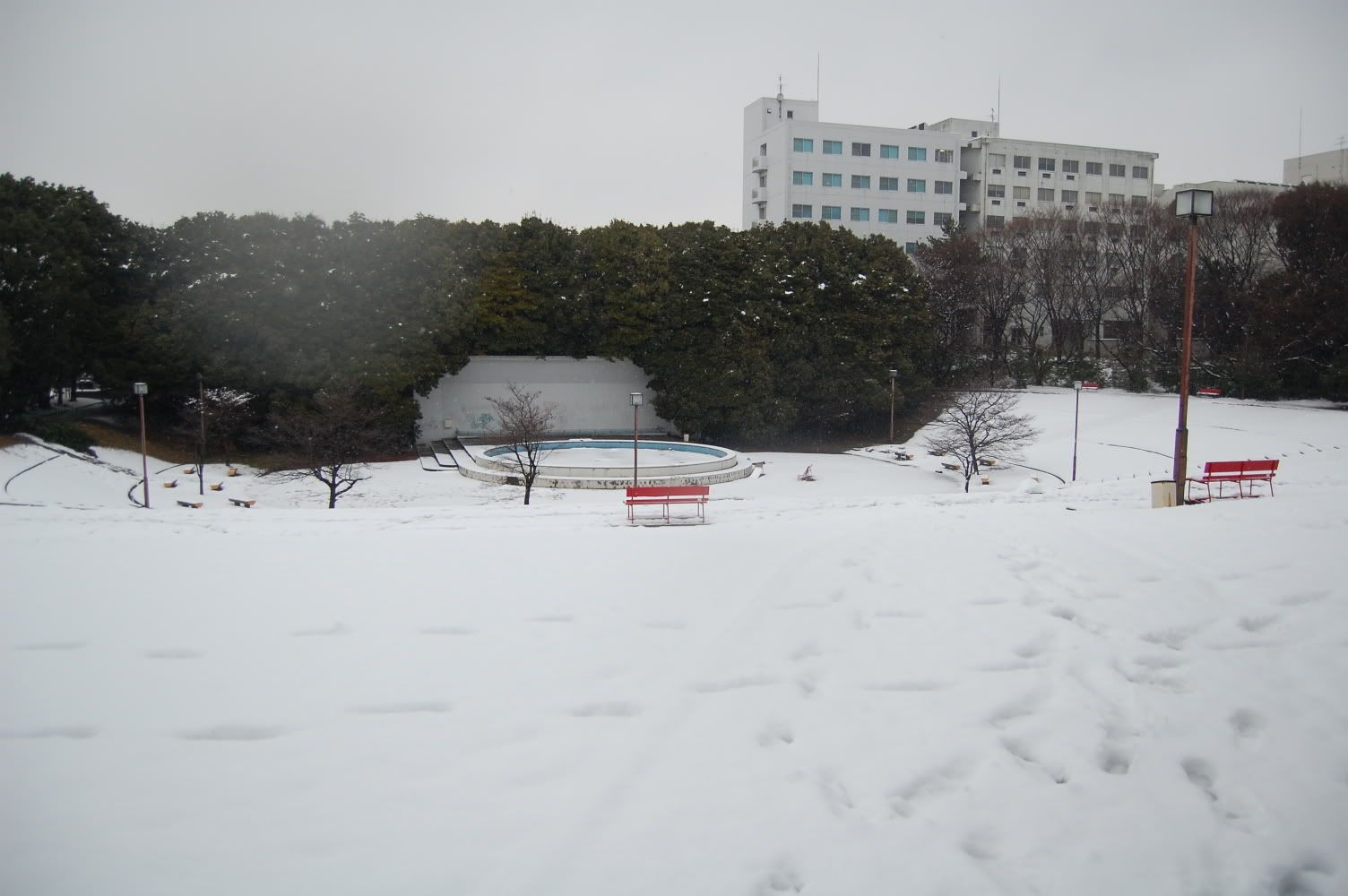 Very very cold! Not good for our nose!! Red red nose!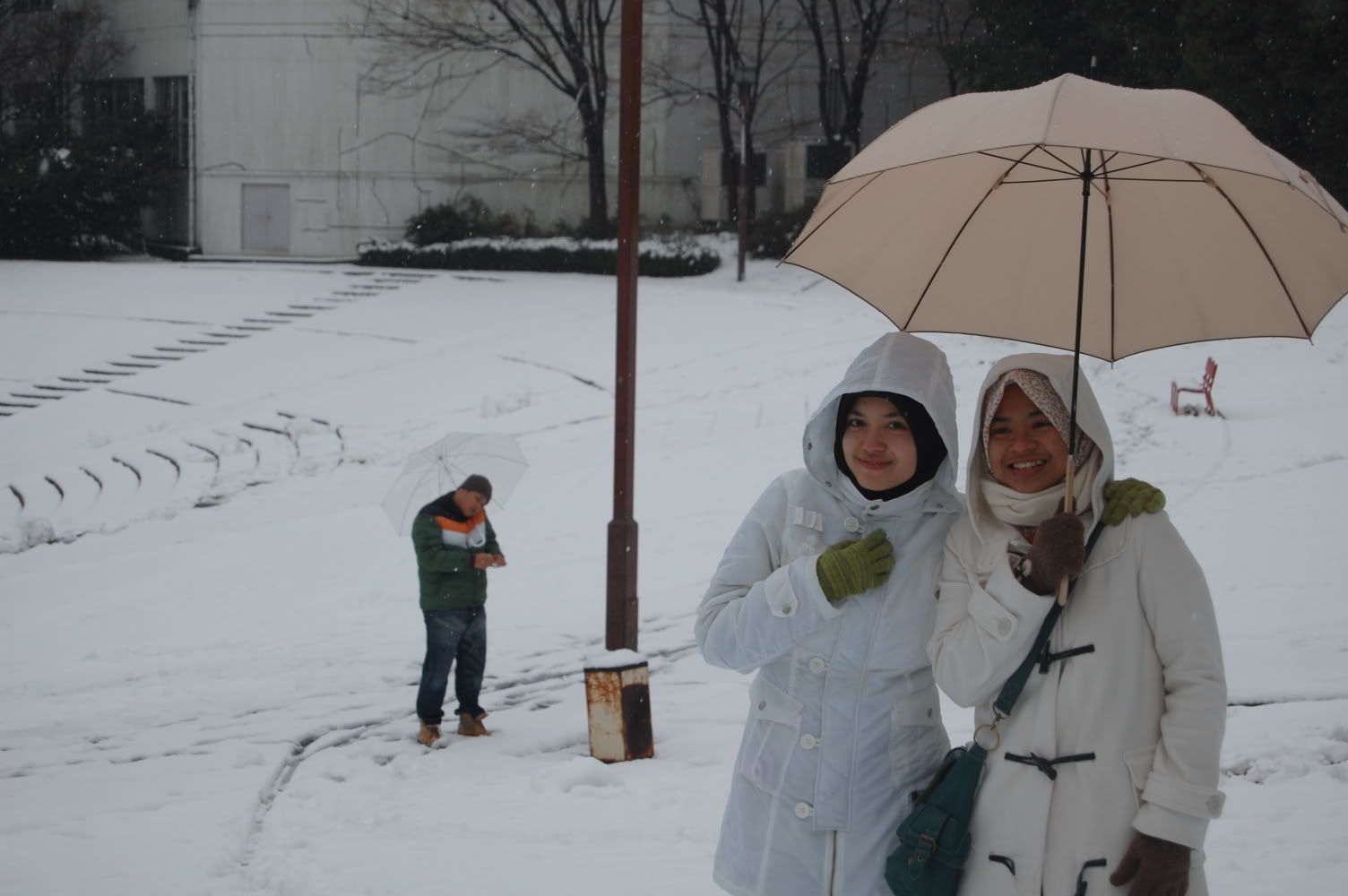 Love love love this picture!!!

Very very much in love with the contrast between the red bench and the white snow!!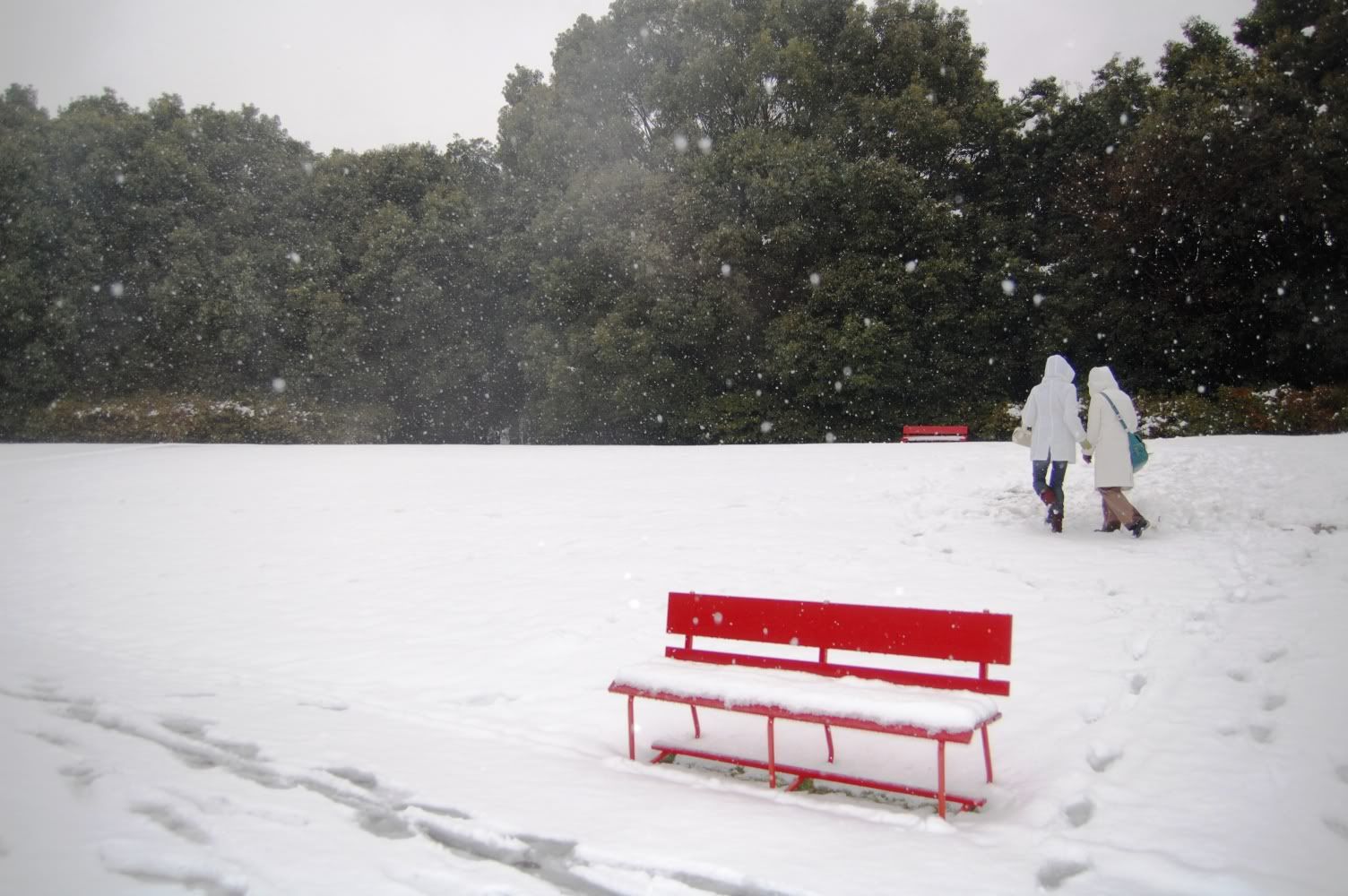 At the beautiful library after resting our cold cold toes.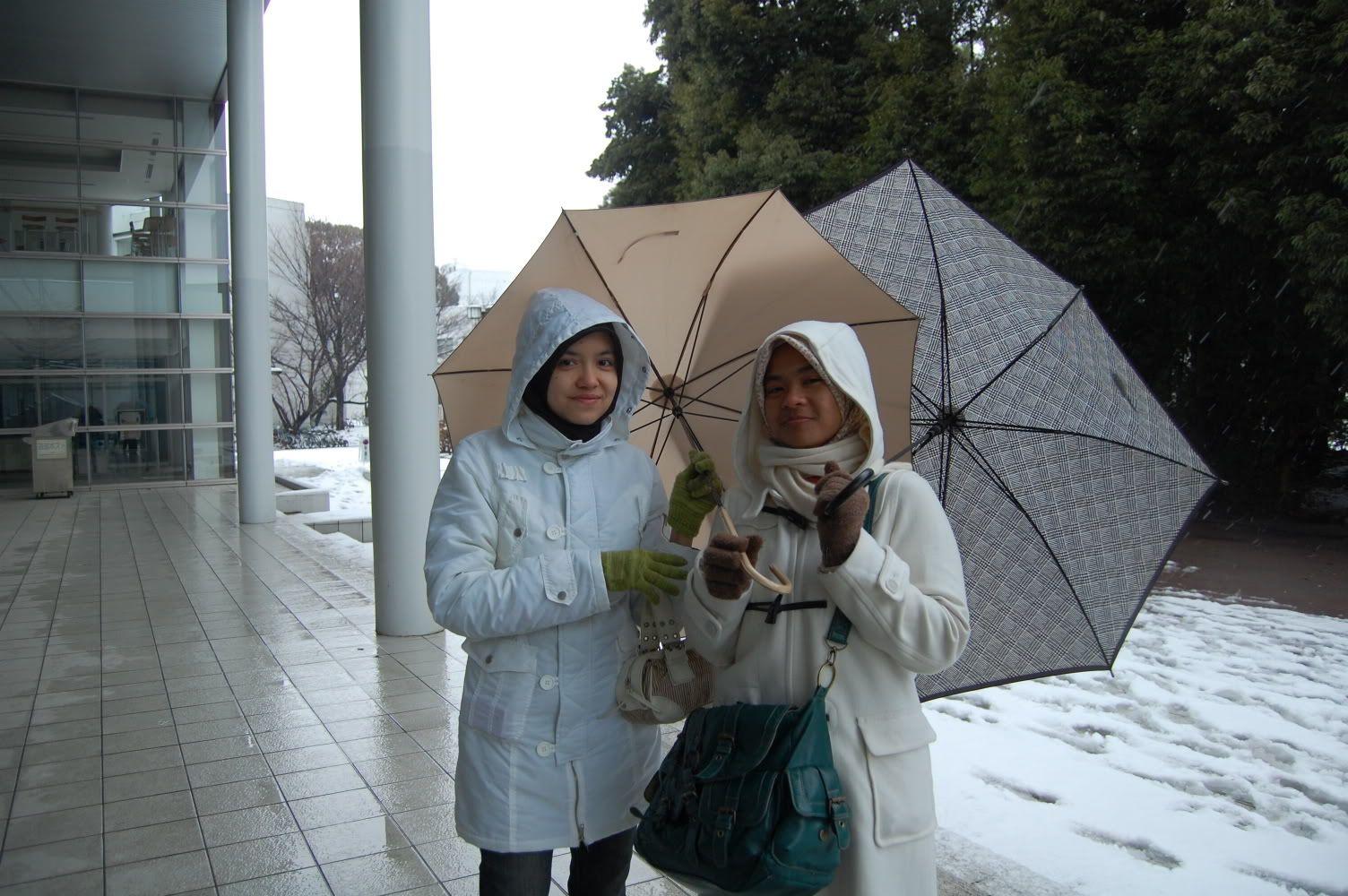 The very very excited and cold girls.

Hopefully it will snow again, and again, and again, this year since it would be my final year in Japan. Who knows when will I be able to see snow again. In my fridge in Malaysia perhaps??

I promise I wouldn't mind the slippery road after the snow! I promise! I promise! I just want to see snow falls in Yokohama!!

Oh by the way, please please check out this song by Kimura Kaela, Jasper (go to youtube). Lagu yang sangat gembira, with very repetitive lyrics with no meanings what-so-ever. But just so happy that I actually danced to this song this morning while getting ready to go to school. Thanks to Kak Long who played this song on my computer repetitively last night. I can't get it out of my head! Oh, and Erin, I'm sure you'll love it since you love Kimura Kaela, aite?!

Kimura Kaela - Jasper

※
Just like this ペンダントジュエリー
Just like that ハートのシャンデリア
Just like this 夢はベッドの
Just like that シャングリラ?
Just like this ギンギラに輝く
Just like that 光のカケラが
Jasper inside 入

△
Just like this 宙ブラリブランコ
Just like that 冷めたフラメンコ
Just like this 不機嫌なピエロ
Just like that 脱げないストリッパー
Just like this オルゴールしめても
Just like that 動け 動けよ
Jasper inside 入

(※くり返し)

魔法をかけてあげるよ
めくるめくる時夢(じむ)の中へと
タップダンスが踊れるよ
燃える足あと リズム焦がし
カララ カラリ カラル カラレ カラロ
ラリルレロ ラリラリラリラリラ

(※くり返し)
(△くり返し)


Wednesday, January 23, 2008

::Holding On::

I can only think of one thing right now. My path to graduation!!!

I am working very well now. (Surprisingly well!) I have managed to finish half the tasks that Mr.SV gave me last Friday. Which is very very good considering I didn't ask for any help, yet.

In a few months (approximately 2 months and 3 days), I'll be graduating, and my life will change very rapidly starting 1st April. I'm gonna be in the working world. I'll be a career woman (which translates into minah kilang, respectively). Not that excited since all my life all I've been doing was go to school. But lets just be optimistic. At least I am gonna have a degree and a job.

Wedding bells?? Hello where are you?

Ouh, and I have been freaking out about having my own space in Malaysia. I'll be staying at home, and I definitely won't have my own room. And I sure will need a lot of closet space, which is impossible. I even had a nightmare last night about me having a fight with my sister and my mom about my stuff scattered around the house. Oh balik Malaysia adalah agak depressing juga rupanya! But I'd still prefer to not have a closet space and have free delicious home-cooked breakfast lunch and dinner at home then living by myself with lotsa space for myself with take out foods.

Anyway, it snows today in Yokohama. Totally shocked by the snow fall. Finally!! It was suppose to snow on Sunday but nothing happened. Then this morning at about 7am, my senior KakLong called to tell me it wa ssnowing!!! So excited!!! I went out with my pajama to catch a glimpse of the beautiful snow then I went back to bed.

It has been 2 years since I last saw snow in my backyard. Yokohama sangat ketandusan snow!! Well, looks like our wish has came true. To see snow in Yokohama for the last time before we go home for good.

Last.....................

I've been dancing to this song everyday lately. All the time!!

I always have a "lagu semangat" to listen to when I was walking to school. It was J'en ai marre by Alizee. It was not about the lyrics, but just the melody. Lagu2 yang boleh buat rasa nak dancing itu adalah "lagu semangat".

KT Tunstall Hold On


Say you to me

You're a bird with an eye for anything shiny

Searchin' the land

For a hero of a man

You say I need

More than my fair share of attention

But I think you know

That just isn't so

Underneath, I felt the fire of a burning question

Tearin' me apart

Right from the very start

And now I see

That it don't take a trick of the light to excite me

So strong

So long

You'll see

Hold on

To what you

Been given lately

Hold on

To what you

Know you got

Hold on

To what you

Been given lately

Hold on

Cause the world will turn if you're ready or not

Simplicity

A heart of gold, an old head, and young shoulders

Quiet and lovely

Becomin' part of me

And now I see

From a handful of names and a thousand faces

One light, burnin', fiercely

I was tired of January

I was tired of June

I felt a change a-comin'

Oh, I was tired of January

Tired of June

I felt a change a-comin'

Oh, I felt a change a-comin

I felt a change a-comin

felt a change a-comin, soon

Hold on

To what you

Been given lately

Hold on

To what you

Know you got

Hold on

To what you

Been given lately

Hold on

Cause the world will turn if you're ready or not

Oh, Hold on

To what you

Been given lately

Hold on

To what you

Know you got

Hold on

To what you

Been given lately

Hold on

Cause the world will turn if you're ready or not

Oh yeah, well the world will turn if you're ready or not

Oh, yes the world will turn if you're ready or not
Friday, January 18, 2008

::Breathing Again::

Now lets forget the panicking kat bawah ni..

Tiba-tiba happy sangat pulak.

I love my SV.

Although I have like 100000001 tasks to finish. All involves brainstorming, but at least I am not that stressful anymore.

Road to graduation, starts now. (before this I don't even want to think about graduating because I don't think I will, but now...hehehe)

Well............mari 目指す 26th March 2008. The day that I will finally graduate from this almost hell-hole place to further study.

Now boleh la mula surf Rakuten untuk sewa Hakama. Wow!!!!!!!!!!!!!!!!!!!!!!!!!!!

Wednesday, January 16, 2008

::Barely Breathing::

I am so not use to this stressed out feeling. I am so stressed I don't know what to do. Usually I am a very positive person who rarely gets panic over anything. I am quite on the optimistic side. But this time......

I seriously felt like crying.

That is sooooooo not me.

My final presentation would be on the 28th of February.

Mr.SV wants to see a complete draft of the presentation (which we all know won't be complete, but what the heck) by the end of January which is barely 2 weeks away.

And the worst thing is.....he won't be available for the most of February, which entirely means I am dead. I have an almost useless senior watching over me, who knows nothing about what I do and doesn't even try to know. So, where should I go to seek help about my research then? My-idiot-self?

Right...that is a totally useless answer.

So, just please...oh please God make me be optimistic again. I need to think straight. And please make me keep my calmest face for now. I just need it to face people around me.

One Republic - Stop and Stare

This town is cooler now

I think it's sick of us

It's time to make our move

I'm shakin' off the rust

I've got my heart set on anywhere but here

I'm staring down myself, counting up the years

Steady hands just take the wheel

Every glance is killing me

Time to make one last appeal for the life I lead

Stop and stare

I think I'm moving, but I go nowhere

Yeah, I know that everyone gets scared

But I've become what I can't be

Stop and stare

You start to wonder why you're here not there

And you'd give anything to get what's fair

But fair ain't what you really need

Oh, can you see what I see

They're tryin' to come back, all my senses push

Untie the weight tags I never thought I could

Steady feet don't fail me now,

I'm gonna run till you can't walk

But something pulls my focus out, and I'm standing down.

Stop and stare

I think I'm moving but I go nowhere

Yeah, I know that everyone get scared

But I've become what I can't be

Stop and stare

You start to wonder why you're here not there

And you'd give anything to get what's fair

But fair ain't what you really need

Oh, you don't need

Stop and stare

I think I'm moving but I go nowhere

Yeah, I know that everyone get scared

But I've become what I can't be

Oh, do you see what I see.
Tuesday, January 15, 2008

::Scary Horoscopes::

Lately I have been reading my horoscopes on friendster almost every day. I have never been the kind of person who religiously believe their horoscopes, or even read it consistently. But lately, my friendster horoscopes have been scary!!!

Check out today's horoscopes.
The Bottom Line
Romantic prospects can influence your receptiveness -- you could get starstruck.
In Detail
Your latest crush may be having an impact on your current thought process more than you realize. In order to get more clarity today, you should try hard to stop thinking about them and get back on track with the work you've got to take care of. An important deadline is looming! It represents the chance for an important opportunity, and should be your top priority right now. Your love life can wait. Today, you've got to take care of your own best interests first.

OMG!!! Yesterday my horoscopes told me to avoid shopping malls or shopping. I did not, btw. Bought a tote from GAP sale for 900 yen (RM27) again. I think I could already make a collection of 900 yen items from GAP.

And today it's telling me to prioritise on work, and not love, since a very important deadline is coming. Which is totally true!! But I don't think I have a problem with prioritising, so...takpe la kan.
There was this time when the horoscope told me I was going to be scold by a superior person in my workplace that day. And guess what I did..ponteng sekolah that day. Hahaha. This horoscope thing is getting bad.

P/S: Can't wait to watch Oguri Shun tonight on his new drama, Bombiman. Not sure what is it going to be about, but I just love the guy so I don't really care about the story. And there is also Ikuta Toma on his drama Honey and Clover (although cerita tu tak best sgt, judging from the anime and movie). Wah!! Tuesday sangat suka!

Thursday, January 10, 2008

::Baggie Taggie::

I was tagged by Yanny a few days ago. Have ta expose my bag to the public. Yikes!! But my bag would not be as interesting as Yanny's bag, in fact, it's not even close to being on the same level.

Since I am still a school kid (yeah right), I'll just divulge my schoolbag. Not interesting, fashionable, cute, stylish, or whatsoever. Ye la what do you expect from my schoolbag??

Today I carry my GAP bag to school. I have few other bags that I alternately carry to school, and during winter I usually carry the other white sling bag (also by GAP, thanks to the 900yen super-cheap sale), but it was white, and I had to wash it few days ago sebab dah tak putih dah (:p).

I don't have interesting stuff inside my bag tapi wtheck, lets just do this.

First and foremost, most important stuff inside my bag would be my purse. I am currently using my new Anna Sui purse. It was a birthday present (my recent birthday) given to me by MrTeddyBear. Love the color and the card slots (all 16 of 'em). And also my pink handphone by Softbank Sharp 810SH. I'd die without both items above.

Then I have my year 2008 scheduler by Paperblanks which is also a birthday gift given to me by the dearest married couple, Kak Ani and Hery. Thank you very much, love it a lot!!! Scheduler itu adalah mahal and I'd never buy it for myself. Nasib baik ada orang bagi hadiah :p. Punya la baru lagi scheduler itu, I still put on the cover. Hehehe takut calar...

Next would be my keys and my red umbrella. Keychains itu adalah keyhain biasa saja. No expensive keyholder for me. Just need something with bells to hold the key so that I can find the keys inside my bag easily.

Then I have these two gadgets (essential gadgets for school) to get me through my days at the lab. My iPod, and my USB memory stick. I have all my songs inside the iPod, which is almost 10GB, and the rest is filled with my photos (for back up, in case my computer crash, or my DVD rosak). And the USB contains my back up lab data (in case my lab computer crash). Never hurt to be careful though!

Then I have my two lab notes. One for notes from the readings and presentations, and the other one is for my lab results and other stuff. And...to complete the notes, and the scheduler, mesti la kena ada stationery kan. So I usually have at least a pencil and a pen, tapi since ada scheduler baru ni, jadi berkembang pulak pen kaler2 dalam beg :p.

And.....last but not least!! My super duper gorgeous make up pouch, also a gift, from my hawt junior Lela, not for my birthday, but for our Slumber Party before Christmas hari tu. The bag contains my hand lotion (very important during winter yang kering ini), my lip balm by Nivea, lip gloss by MAC, tissue paper, Whiteen chewing gum, and Frisk. And ada Snickers juga. Yesh I put foods inside my make up pouch, so what?! Hehehe...





Okay thats about it kot. If I am going out, my handbag would only contains less than half of the above items je sebab I can't carry huge or heavy bags since nanti I'll get shoulder ache. Hahaha. So I always try to minimize the contents of my bag.

::Four Years and Still Counting::

Happy 4th Anniversary to myself and MrTeddyBear~

OMG I have been with one single guy for that long already?!! My previous relationships never even reached the 1 year mark and this relationship actually made it to 4 years. How wonderful!! Love yah lots bb....





p/s : Hopefully we'll not just be in a relationship by our 6th anniversary. I would certainly like to be married by then. Oh please pray for me to settle down sooooon~


Wednesday, January 09, 2008

::Back to the Past::

I am back to using my pink template. Summer is over so long ago, so I think I should change to a less cheerful template. No more cheerful template!!

Monday, January 07, 2008

::The Ending is Coming Soon::

Winter holiday is officially over yesterday. That means school starts today. I am so not having the mood to work right now. But then, when have I ever had the mood to work anyway. Anyway, I had a lot of help from my senior at lab today. Arigatou senpai!

My winter holiday was as usual boring. I'm a boring person, so my holiday have never been exciting. Someone please take me some place where I can have a very expensive holiday! And please pay for it too since I'm broke. Cepat la hujung bulan 1, nak skolar!! Mahu kawen dengan saudagar minyak and tinggal di Dubai please!

The highlights of my holiday is definitely the newborn baby (definitely not mine). She was born a day before my birthday, which was zannen! since I was really hoping we could have the same birthday. No reason, just that there are not many 29th December babies that I know. But 28th December is easy to remember too. And I think I can finally except the fact that I am Aunty Shahnaz now, not Kak Shahnaz anymore. I do have a lot of nephews and nieces, but holding a senior's baby is too real. I am 23. My mom had me when she was 25. So I am definitely in the mother's league already. Just that I am not married yet.

I want my own babies!!!!!!!!!!!!!!!!!!!!!!!!!!!!!!

Holding my senior's baby reminded me of my childhood. I remembered folding napkins for my tiny baby brothers and sisters. Feeding them and all. Babies are just the most wonderful creature!! They are all so cute. I wish I could stay that cute forever. And I absolutely don't like being reminded about the fact that I left home when my baby sister was a few months old. I missed out on her growing up. And she's gonna be 10 this year. I get to go to boarding school, and pursue my Degree oversea, and I lost the precious 10 earliest years with a baby sister!! Oh why did I studied so hard?!!

Over the sea and far away
She's waiting like an iceberg
Waiting to change
But she's cold inside
She wants to be like the water

All the muscles tighten in her face
Buries her soul in one embrace
They're one and the same
Just like water

The fire fades away
Most of everyday
Is full of tired excuses
But it's to hard to say
I wish it were simple
But we give up easily
You're close enough to see that
You're the other side of the world to me

On comes the panic light
Holding on with fingers and feelings alike
But the time has come
To move along

The fire fades away

Can you help me
Can you let me go
And can you still love me
When you can't see me anymore

The fire fades away


p/s : I'm going to the BSB concert in February. It would be my first concert (I'm so lame) ever.